well i've finally decided to start a project log. BRIEF HISTORY: bought the sweet machine for 300 bucks from the original owner. had some issues but mostly cosmetic.but in ran good until my throttle body stuck open one day and my crank just ripped itself apart. put a new one in. and then it just started doing some things. as some of you probably remember my neon had a mind of it's own about a year back. for those of you who don't (or weren't around) this thing gave me some hell. NOTHING could fix this thing. nobody could figure out was wrong with it. it just didn't want to work. and then one day while swapping the cracked stock exhaust manifold ( suprise! it was cracked) i swapped some vaccum lines for the evac system and tada...car has run perfect ever since. so yeah.once it was running i put on a chikara header and a walbro fuel pump from modern.then i decided to buy somethings from someone getting outta neons and got a deal sooo.
it started out like this

relocated battery in the trunk and made a custom box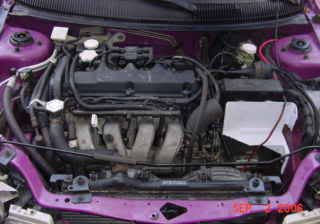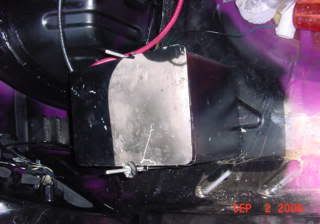 and then i started with putting on the body kit shaved blitz on the front and buddy club on the back (plan to shave that too). also slight fender flares are going to be shaved in when i get to that point
and then projectors
next i decided to add in the undercarriage led. (actually really like the way this turned out)
have to run new light strips though...and once i actually put the interior all in it'll be powered by a missile switch next to the e-brake...
missile switch ftw
installed a grant steering wheel, actually got the horn working on it too...sooo now there is now airbag or airbag system in this car
dashboard delete is flawless. just don't actually have pictures of the process though
btw steering wheel is upside down
also putting in a new cluster with overlay
and the last thing going into interior (besides a new headliner and capret) is a set of these suckas
now the point of this car is to be a decent mix of show and go so i'm putting all the suspension components that i got off an acr in the junkyard on. acr springs and koni struts, rear sway bar, and disc brakes. i'm also adding on front and rear strut tower bars. might not move very quick in the straight but she'll handle turns.
front konis are in
and here is the engine bay with cai
now to add finishing touches to the outside i'm eventually going to throw on some side skirts. turn side mirrors, cowl hood...and possibly just possibly a roof scoop (fully functional)
here's the side mirrors that i'm going to fiberglass solid and delete the leds
as for exhaust i'm going to put this on...i know.
one other thing i almost forgot is i'm porting and polishing my intake manifold...inside and out. here's the outside for now