VIN - JHMED9360JS017402
1988 CRX Si
180K on the body
~70k on motor
The car was restored roughly a year ago and has been my daily driver since last August. The car is extremely clean and reliable and I have gotten as much as 40 MPG on long trips, even with the swap. I'd say my average is about 35 or so highway and high 20's in town.
Drivetrain:
-Low milage B18 LS motor out of a '92 Integra
-B16 tranny
-Cold air intake, valve cover, and strut tower bar have been powdercoated
-New distributor cap and rotor, plugs, wires, fuel pump, injectors, fuel filter, starter, and some other things (I HAVE RECEIPTS)
-New clutch
-Greddy catback with Magnaflow tip
-Hurst short throw shifter
Body:
-Original Y49 (Barbados Yellow) car, painted Y56 (Phoenix Yellow), jambs and engine bay are Y49 but look nice
-The only rust on the car was some minor quarter panel rot which was cut out and new panels were welded in
-Antenna and rear wiper are shaved
-New headlights, clear corners, and JDM Shit side markers (wired correctly)
-Spoon mirrors
-Some new seals/weatherstripping
-New windshield
-Very straight, no dents or rust, one VERY minor scratch on the roof from where I hand cranked the sunroof open to see what needed repaired and the bottom of the driver's side rail touched the roof, very minor
Suspension:
-New KYB struts on Neuspeed springs
-New brake pads, rotors, and shoes
-15" Falken Hanabis on Hankook tires, less than 5,000 miles on the setup, tons and tons of life left
- '91 CRX Si wheels painted black, 3 wheels have nearly brand new tires, 4th has some camber wear but still decent
Interior:
-A-pillar gauge pod with Autometer water temp and voltmeter gauges
-EF sedan steering wheel
-door panels recovered in tweed (gray top/black bottom)
-Tenzo R seats
-Custom made black floor mats
-Kenwood 10" sub/amp combo
-Pioneer DEH3600 head unit
-Infinity component set
-Mr. Gasket chrome ball shift knob
-Rear speaker covers recovered in black tweed
Now for the bad, the sunroof doesn't work. I've never really looked into it too much, could be a simple fix. I would like to just seal it shut permanently, but I won't since the next owner might want to fix it.
NEW PRICE
$4500 OBO
These pictures show the Falken Hanabis, and most of them show the tint on the car. The tint is long gone and there is a nice climate control installed now!
No tint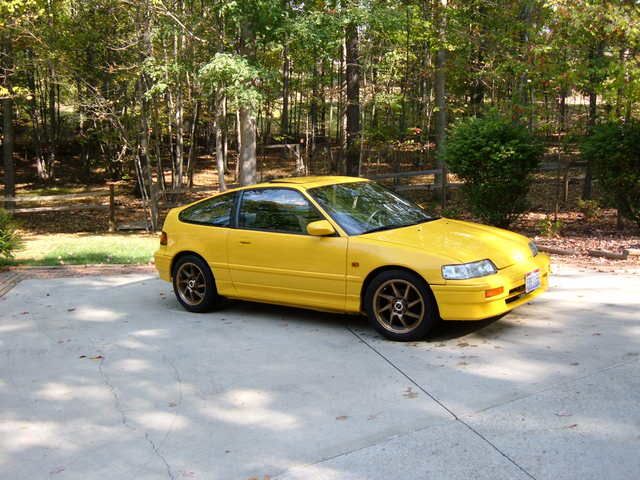 The floor mats are wet, there are no stains on them. The carpet could stand a cleaning I suppose.
Thanks,
Alex
NEW PICS WITH THE SI WHEELS AND NO TINT!