Pinks is at my local drag strip doing a 1320 bracket deal.
what they are doing is a bracket race with the 4 nicest Mopars, fords, chevy's and pontiacs.
this is my dads car.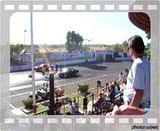 the car is currently running 12.7X's at 108 if you we're curious.
you can vote by texting "AZ M01" to (480) 773333
there is no limit on how many times you can vote. and it is today only. so get to it!
thanks!