Current look, going for a sleeper, but right now it's not fast.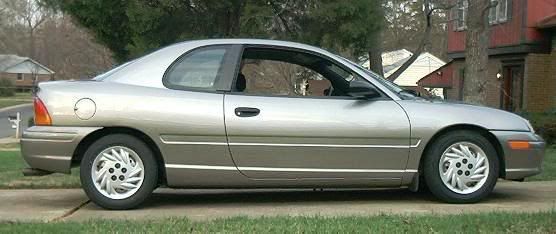 Pretty modded, I minus well make a list now off the top of my head.
1998 Plymouth Expresso
Drivetrain
Original dohc engine
Quaife/original 3.94/.72 fifth
Fidanza modular aluminum flywheel/pt clutch
Mopar short shifter/booger bushings
DM racing mounts/booger solid bobble strut
Iceman air intake.
57.5mm bored stock tb (by Vitor)
Self P&Ped intake manifold
Hondata heatshield intake manifold gasket
af/x sohc race pcm
Pacesetter header/srt4 cat/2gn midpipe/mopar catback
Unorthodox race udp (they still have these in their PARTS BLOWOUT section on their site, $85 shipped!)
Suspension
Konis/highrates
Poly bushings
DM racing crossmember brace
Suspension techniques front/rear sway bars
ACR hubs up front, rear disc swap, meh brake pads.
16:1 sport rack
Weight reduction
Aluminum wheels that look like steel
All interior sound deadening/dampening removed except for those hard to reach spots behind the dash
No power steering or a/c
DM racing lightweight lower alt bracket
Partially gutted spoilerless trunk lid, no trunk carpet
Base rear seat, console, and sun visor (no mirror)
Removed 'shift weight' located on the lever on top of the trans
No front motor mount damper or steering wheel damper (under the airbag)
De-tipped the muffler
Tractor battery
Early style evap canister
Removed the plate sandwiched between the glovebox plastic
Misc
PT Cruiser alt
Leather steering wheel/shift knob
Decent Alpine cd player with crappy OEM Mitsu speakers from something, came with car.
Lettered valve cover