Bringing this over to 1gn.org, since my main post was locked on Neons.org over nothing to do with the project in the first place... Either way, enjoy.
I had an old project log that didn't really have much going on. I've since changed directions, sorta. I'm on the lookout for a suitable SRT-4 to donate its power plant and electronics to boot. However, since it appears people don't enjoy crashing their SRT-4s here in Cali as often as other states, I'm going to build a relatively stout NA setup to get me along until I finish school. I'm hoping it makes ~230whp all motor, but I'm pretty optimistic. ShaZam508 made 207whp, and my setup should be more well rounded. So we'll keep our fingers crossed.

So the goal for this build will be a car capable of 12's on slicks NA, and to be able to drive it daily on 91 octane fuel here in California while still passing SMOG (I'm realistic, I probably won't pass, lol). All of this is a pretty tall bill to fill, but I think it's doable. If I fail to reach 12's, then I could always spray. But first things first. I need to get the car together and up and running.

When I pull the engine, if I'm feeling really motivated, I may do a bit of a wire tuck, but probably nothing too amazing (TBD).

As of now, the suspension is almost done in the car. There are a few more things I would like to add to finish it, most of which I have in hand, but haven't installed yet.
Suspension
Installed:
K-Sport coilovers
Vitor Moster Sway Bars
15x7 Rota Slipstreams
Tires are Falken Ziex 512's (for now) and are 205/50R-15
Prothane Total Bushing Kit
Brand new control arms, tie rod ends, knuckles, and bearings
ARP front wheel studs
Rear stur tower brace
Filled MM
Booger Bobble
Waiting to be installed:
Russel Stainless brake lines
Rear disc swap
New calipers and rotors
DCR Rear Lower Control Arms
Wanting to purchase, but not pertinent for completion
DSS axles
OBX or Quaife LSD
ARP rear wheel studs
Any thing you could suggest for the suspension I don't have listed, please send the recommendations my way.

Engine
Installed
2.4l machined and assembled at VW Paradise here in San Marcos with the MPx Complete Engine Rebuild Kit w/custom 11.5:1 .020 over JE pistons
Crower valve springs
Eddy Fierro race ported head
ARP Head Studs 03-05 Neon SRT4
Ishihara-Johnson windage tray, baffle, and crank scraper setup
Crower full race cams
RTernie intake manifold
MPx Adjustable Cam Gears (and other timing components)
65mm BBK Mustang throttle body
2.7l Magnum rockers
PT Performance solid timing belt tensioner
PT lifters
Oil pump
Water pump
Waiting to be installed:
Blackdog 1 7/8 header with merge
Wolcyk Engineering 2.4L Motor Mount Adapter
MPx 2.4L Motor Swap P/S Bracket
AEM Fuel Ignition Controller
Mopar ECU (Still on the lookout for an AFX Race)
30# Injectors
Awaiting arrival:
Nothing
Waiting to be purchased:
Clutch...
Misc parts
Maddog STS 65-1B (Installed)
Vitor Monster Aluminum Airdam (Awaiting install)
There are a few things I may be overlooking for the sake of this list, but this should pretty much cover it. If there's anything I'm missing, don't assume I know. Please speak up and point it out to me so I can add to this list. I'm not an expert on a lot of this stuff, and like a lot of you, I learn as I go.
Pictures of a few things done so far. More will come as I get a chance to work on the car.
Here you can see the ARP studs, new control arms, Vitor Monster sway bar, and Prothane bushings.
Vitor Monster Sway bar compared to the stock front bar.
Engine bay as it looks right now.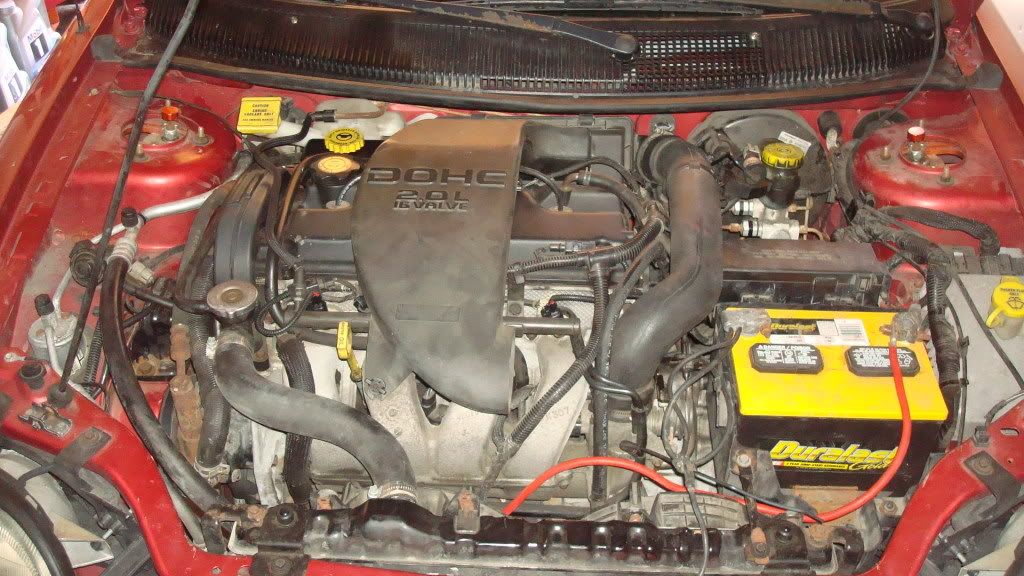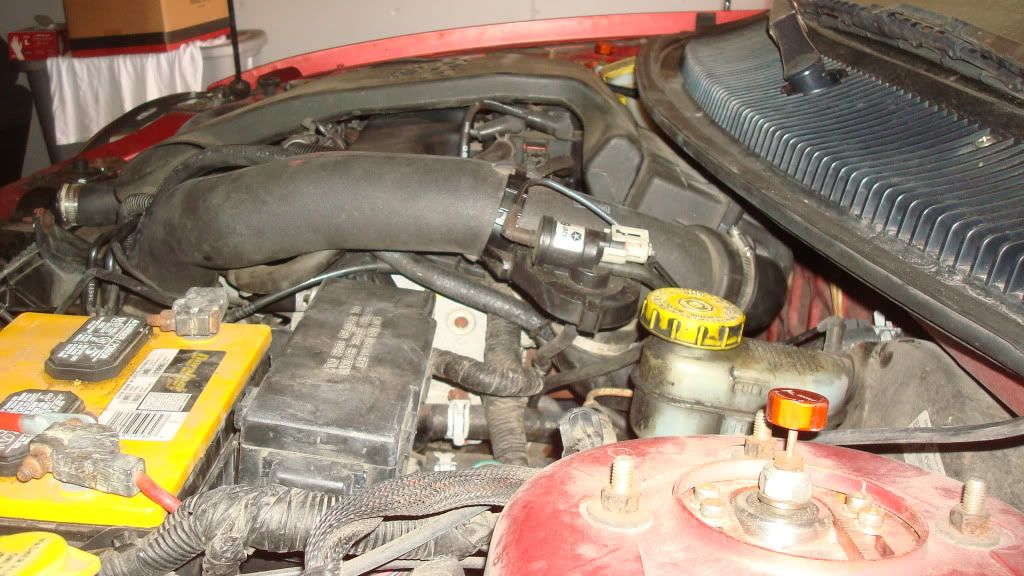 STS prior to installation.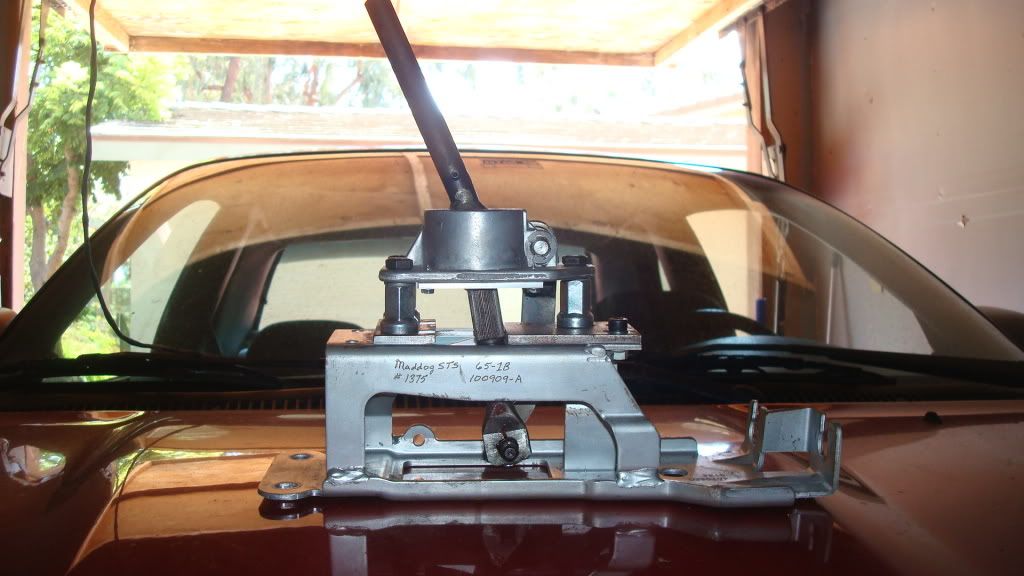 Crower cams and valve springs.
Update pictures for new parts. (2/26/2011)
This isn't a picture of all of the parts that have arrived, but it's the major pieces. I'm still waiting on the pistons to show up as well as the power steering bracket. I'll grab pictures of those items as they arrive, and will update this thread as needed. So keep an eye out. For now, here's what I snapped pictures of:
Later, when I have a chance to dig through my records, I'd like to keep a rough tally of how much everything costs, so that way those looking to do something similar have a realistic idea of what this costs, as well as keeping the money as real to me as possible too. I don't want to spend it and just forget it. I'm debt free for a reason people! While I'd like things to remain as cheap as possible, I do realize this stuff isn't cheap if done right. Just in the engine parts list, I have around 3-3.5k left to spend. I will get the tally of money spent to date soon. It will be an estimate since I won't have all records available still.

Update 4/14/2011: More parts have arrived
I got my RT Ernie intake manifold, Eddy Fierro race ported head, Mustang TB, MPx power steering bracket, and Blackdog header. The intake manifold was made for a 65mm Mustang TB. I'll get pictures of the Eddy Fierro head at a later time because I don't want to unwrap it until the time draws near for installation. To start are the before powdercoat pictures.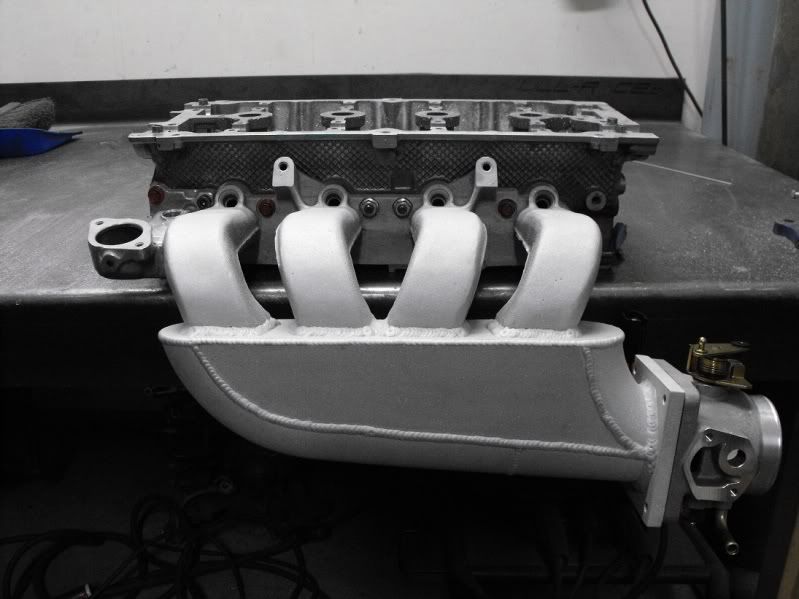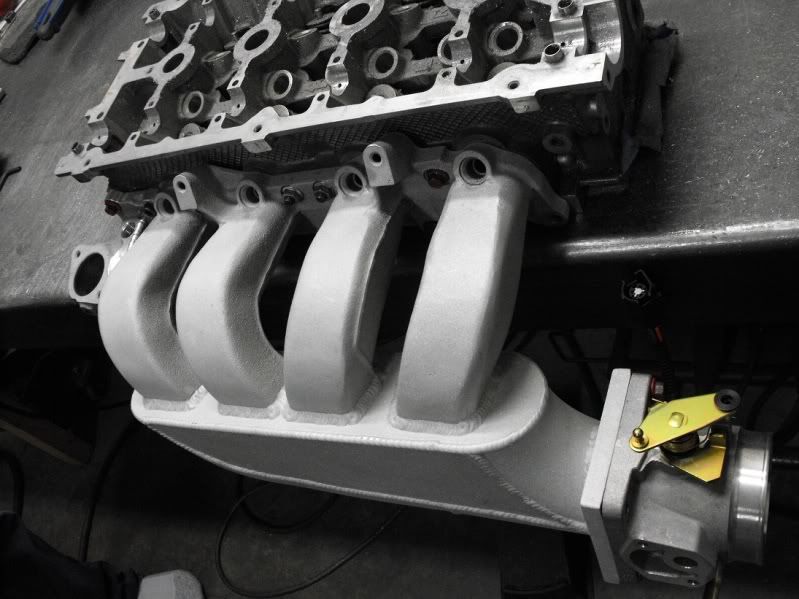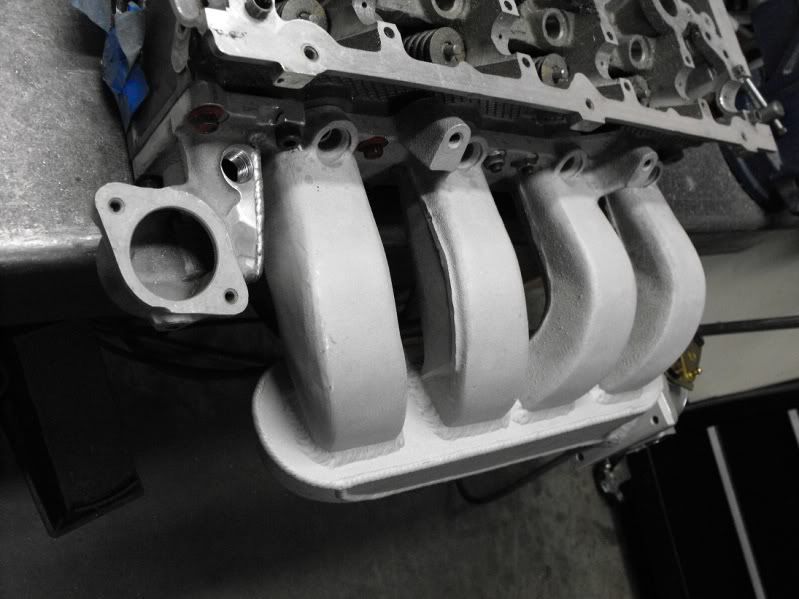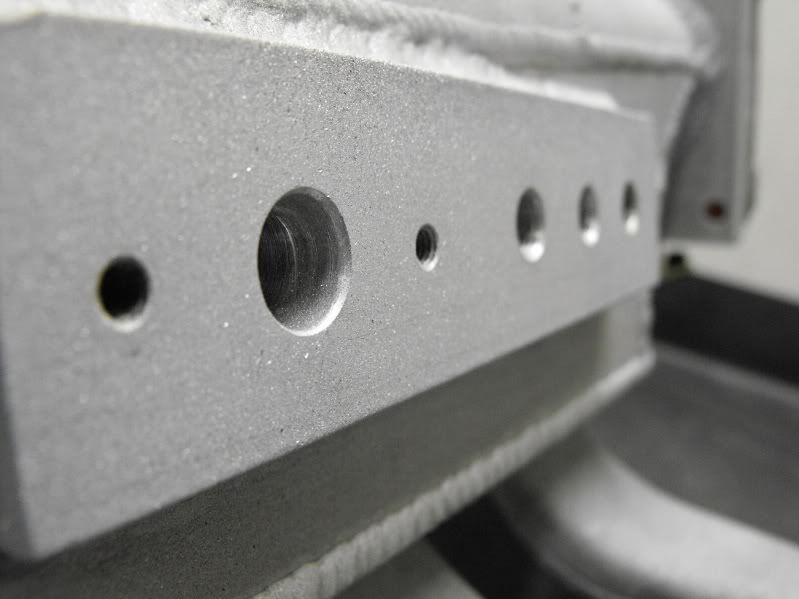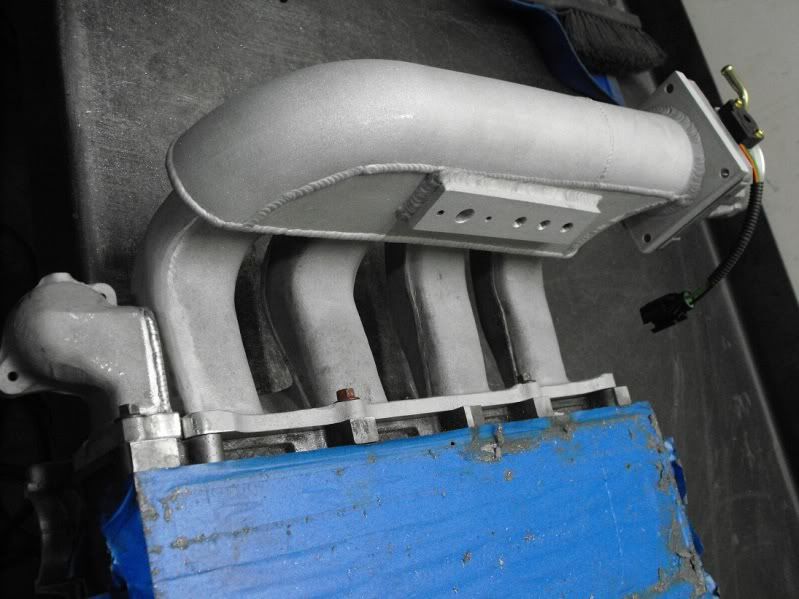 After powdercoat.
Detached Coolant port.
Stock 2.0 valve cover (Will make the fact that I have a 2.4 unnoticeable to most).
Blackdog header ceramic coated in black.
Update 11/11/2011:
I finally received the crank scraper, baffle and windage tray setup after a long delay. I've been incredibly busy since the last update, and haven't had as much time as I'd like to work on the car. I've started back in school, and we have a new born baby in the house. So with that mixture, I have little time for my little 'ole Neon.
Today, I started to get some engine assembly under way. However, as you read on, you'll find that I ran into another small hiccup. I started by installing the head, and was moving on to install the oil pump, water pump, etc so that I could do some fitment checks on the crank scraper setup and get it all lined up. Well, as it happens, there appears to have been a communication error between myself, and someone at Modern Performance. Apparently I ordered the entire bottom end kit for the 2.4l, and somehow ended up with no oil pump. I didn't find this out until today because I made it a point not to open all the packages I received so that I didn't end up losing anything. I checked over the packing lists I had, and it doesn't seem like I was charged for one, but I don't understand how it was left out in the first place.
Either way, I went ahead and did what I could given the circumstances. With the small space I have to work with, and all the opening of boxes today, my garage is now a total mess. So I think I might try to do some cleanup in there before I get back to work next time.
Also, I attempted for a very short period of time, to clean my engine bay a bit. It was very slow going, and I don't think I was attacking it the best way possible. So if anyone has some good recommendations on how to really clean up your engine bay, I'd appreciate it.
On to the pictures:
Engine as it was once I got it from the machine shop.
Installing the ARP studs prior to putting the head on.
Eddy Fierro head in place and head studs tightened per ARP's specifications.
Test fitting the crank scraper setup.
This is basically how I left it once I discovered the oil pump was not here.
Any tips to get this engine bay cleaned up?
My mess of a garage when I was all done (just did this picture for fun).
Update 12/28/2011: Cost Estimate
Tallied my new total to include all the new/used parts I've picked up to date. I'll re-tally my numbers just to be sure, but that's what I've spent on the car since purchasing it back in 2006 for performance parts. It's not THAT bad when looking at the claimed build budgets of other cars out there, but it's still more than I planned. I think Chuck H said a long time ago that you need to take your current proposed budget, and double it for the most accurate build figure with your car.
This tally is an estimate since I didn't have all receipts on hand, and needed to rely on my memory. I also subtracted money for items I sold as a result of the build. The true number may be slightly higher or lower, but this should be close. I was dreading the new tally, and put it off for some time, but I can now see why.
Total cost to date:
$8698.60
(Dec. 28th, 2011) [Over budget and over time] :shout:
Update 02/17/2012: A little more progress on the engine assembly.
Today is a bit of a small update with some photos of work I've gotten done since the last update. Considering the collection of parts I have, this is some very slow progression on my part, but my wife and I are both full-time students with a 6 month old daughter at home. Between our tightly balanced school schedule, taking turns watching our daughter, doing homework and studying, and trying to find time for each other, finding my way into the garage has proven to be one of the less pressing matters.
Anyhow, I managed to get the crank scraper setup all adjusted and bolted down. I had to do some cleaning up in the oil pan to remove some of the aluminum casting spatter (that's what it looks like, but I don't know if there is a technical term for it) with a putty knife and some sand paper to allow the trap doors to operate without impedance. Other than the long wait times, and a botched CNC job on the trap door (more wait time), the process was straight forward with the supplied directions.
I installed all the timing components except for the outer timing belt covers, and that's only due to the screws being different between the 2.0 and 2.4 timing covers. It almost seemed like the SRT timing covers are made more cheaply than the 2.0 covers. Anyhow, I'd explain in more detail if I had some pictures for reference, but I don't.
My only major concern at this point is if I have timing set correctly. I've never set timing using adjustable cam gears before, so
I'm not sure if my results are typical. I'll post a "help!" thread detailing what I did and hope to get some good feedback there. Anyhow, for the purpose of this thread, I won't clutter it with too much of my questions, since not that many people are following it if I had to guess. Not to mention I've been typing this entire update with one hand because my daughter is laying in my other arm occupying the other. So on to the pictures...
Crank scraper final steps being run through.
All the timing stuff installed.
My concern with timing. With normal gears, I would have already redone timing if they looked like this. For now I'll wait till I get answers (this is after rotating the engine 2x and the crank sprocket at TDC).
A shot of the intake and Mustang TB installed. The TB isn't fully installed because I have a few mods to do to it to make it work as I'd like. I'm going to swap the throttle spring with the Neon spring cause the Mustang spring is too light, along with a few other things.
Jonathan