So I didn't come up with the name, my girlfriend did. Just wanted to get that out of the way
Car:
1997 Magenta base coupe
Originally SOHC mtx.
Bought it almost exactly 2 years ago for $600 with a bad clutch, 190k on it, and gay stickers all over it, along with a fart can. It was more than I wanted to pay, but I had always wanted a magenta coupe to make quick. People hate losing to Neons the way it is, and I figured it would be worse to lose to a Barney purple Neon.
My buddy and I towed it to the Menard's parking lot that we worked at, and I swapped in a stock clutch I had in the garage in 2 days working in sub-zero temps. It sucked ass. Drove it for a while, it got around 40 mpg driving it 45 miles each day to school/work. (My new job basically paid for the car as I got $0.41/mile and I put on 1400 miles the two weeks I was in Chicago for training
)
Last spring I put a 2.4 in it, had Crane 12's, kirk header, DOHC muffler, mpx udp, and a junkyard bottom end. Got the car from a buddy that wrecked his car 3 months after I put this motor together and installed it. Traded him a loaded white r/t coupe for it and $1100 (I paid $500 for the r/t and tossed a bumper/fender on it lol).
Best track time was a 14.9, got 2nd in the slow class at Import Wars last year after missing the first 3 races.
It burned oil real bad last fall, and my girlfriend drove it after her Mazda decided to blow a brake line. Needless to say, she didn't heed my warning of pulling over if the oil light ever came on. "Only drove a mile and it started making loud noises" was what she told me when she got home. Real fuckin' nice.
So now, it's time to put another 2.4 in and not let her ass drive it.
New motor:
Bottom end:
Brand new 2000 Mopar 2.4L short block
Coated Clevite rod bearings (coated by Polydyn in Texas)
Balance shafts removed
Unorthodox Racing UDP, race version
Brand new water pump, crank gear, SRT-4 tensioner, SRT-4 idler
Head:
Crane 12's
Milled .040"
Brand new Crower valve springs
New valve stem seals
PT lifters
2.7L rockers
420a valve cover ("Not much done to it, just a couple bolt-ons"
)
Exhaust:
Kirk header, stock piping, DOHC muffler (that was the first mod due to the obnoxiously loud and retarded fart can. Had one from my black coupe so I welded it on at school).
Random other mods:
Eibach sportline springs on stock struts
R/T rims (I have like 11 of these damn rims)
Depo head lights
Custom body work
Other than that, the rest will be stock for now. I'll either run it on a stock 96 DOHC mtx pcm, 96 DOHC Mopar PCM, or 97-99 AF/X pcm. Just gotta figure out which one it likes the best.
Pics: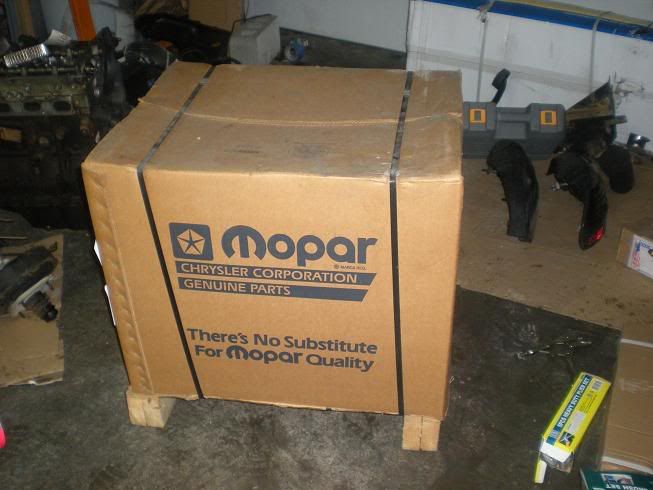 Still in the crate
Top removed
That was a lot of shrink wrap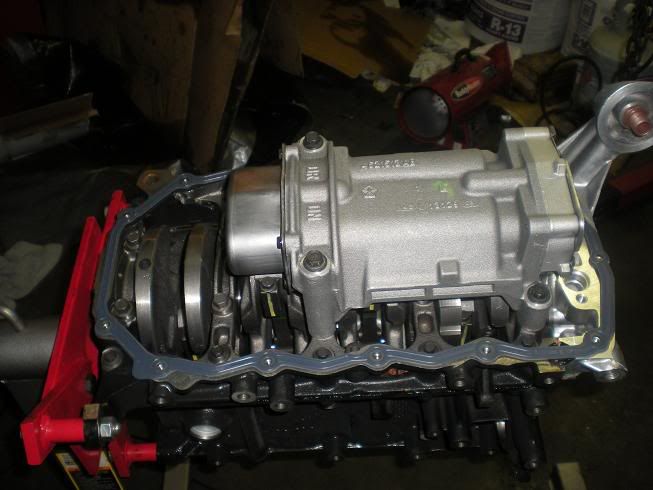 First things first, removing these useless balance shafts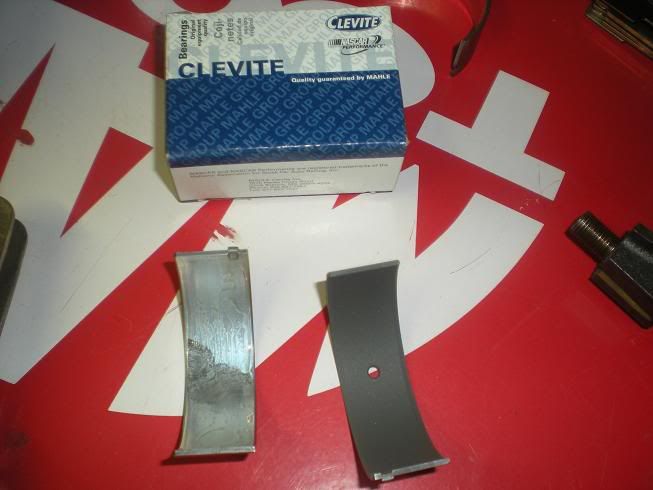 Stock brand new bearings on the left, brand new coated Clevite bearing on the right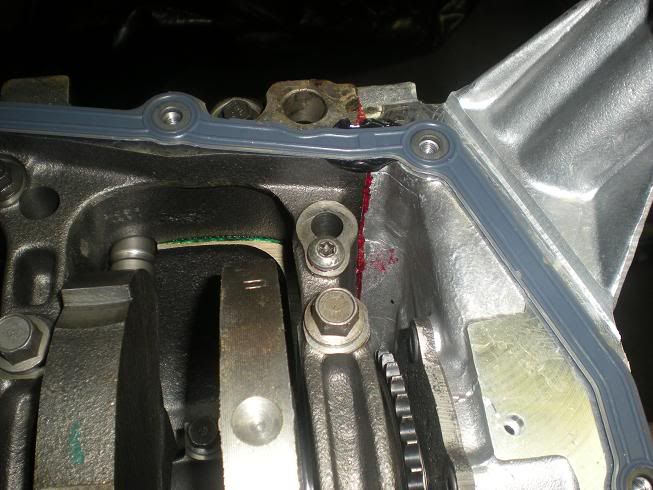 Don't forget to plug the oil hole when removing balance shafts! Used a 1/4"-20 tap after I lost the 5/16" tap I finally found and searched about an hour for it. Then had to dig around for a 1/4"-20 bolt. Luckily I had one from a forklift in my tool box from work, cuz all the bolts I had were fuckin' metric. And of course I left my real nice tap and die set at work.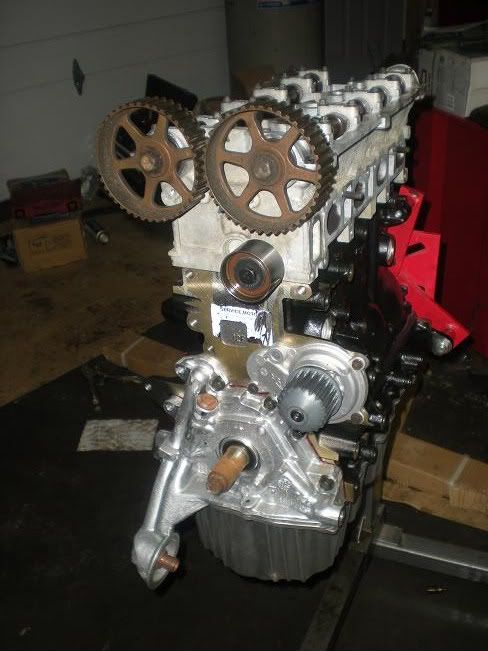 Just waiting on the tensioner, gotta pick it up from the dealership Monday.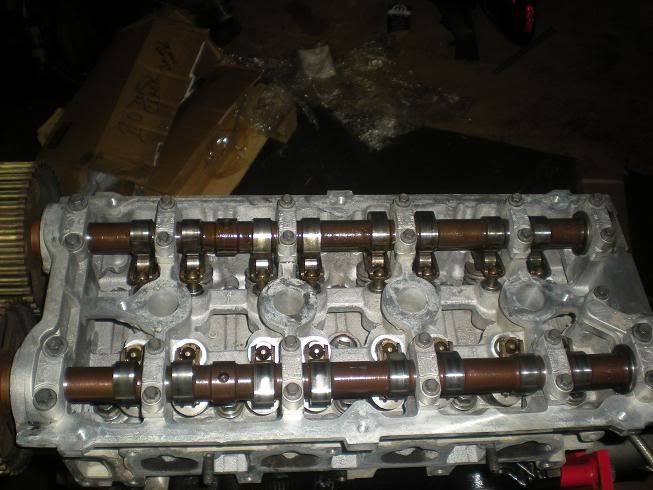 Crane 12's, Crower springs, 2.7L rockers, and PT lifters.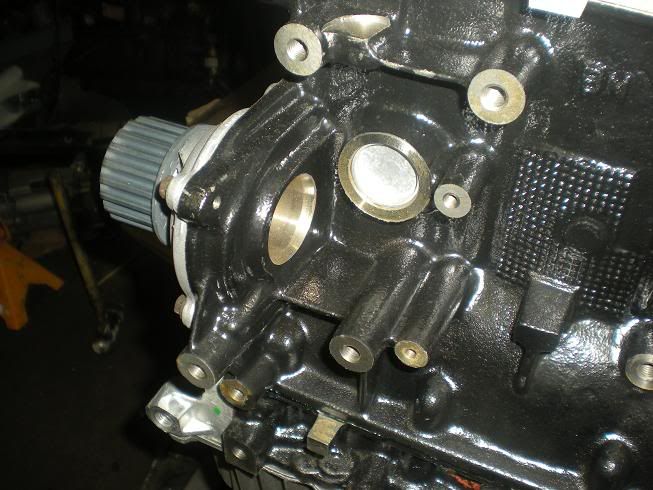 Forgot to get that damn piece, gotta order it Monday, along with a dip stick.
Pics of the car: