To start off, I'd just like to explain how my car ended up in this predicament.
I was driving on August 23rd, after a tornado warning/storm passed through, to go pick up my friend to chill at my other friend's house. I drove to her house and picked her up. On the way from her house, I went the same way I came (I came through 20 minutes earlier). On the way past Parkside Dr. and Home St. in Sycamore, IL, and it just looked like the street was wet. I kept going, because I thought it was just the street, and it turned out I was running into two feet of water. I bogged down my car because it had no air (I don't think I ingested any water at this time)... Me not thinking about my CAI, tried to start my motor (gulp gulp), and I sucked in a bunch of water... Popped the intake and looked in and there's like 1.5 inches of water sitting in the manifold.
After that, we pushed the car out of the water to the side of the street (where it was dry), and left it overnight to be towed in the morning... The next morning, I went back to where it was (A mile and a half away), and waited for the tow truck... It was scheduled to be there at 8:30am (the time I set it up for the night previous), and I got there at 8:00 just to make sure.
When I got to my car, I opened it up, and there was at least two feet of water in it. So I wait in my mom's car for two hours and the tow truck still isn't there. Called the tow company and the asshole that was supposed to give my info to the person that was dispatching the next morning didn't give it to her, so I finally got my car towed to my shop around noon.
Pulled the spark plugs and fuel pump fuse after vacuuming out the intake manifold, and shot water from cylinders one and two about ten feet in front of the car.did two oil changes, then tried to start it up... Took about five to ten minutes to get it started, and it ended up sounding like this...
Did one more oil change on it with good oil and filter, and took it next door to have it diagnosed. Mechanic said it was a rod knock, and it didn't have long to live.
Sooooo.... I got to thinking what I'm going to do... Get a new car or fix my neon. Turns out I only had $200 to my name, and I couldn't afford a new car at the time. So I found Dan on
1gn
and managed to score a whole donor neon for $200. On the way up to pick it up, the U-Haul trailer's brake light harness had all of it's wires rubbed raw, and it shorted out our running lights. Turns out in my dad's Toyota Tacoma has a safety feature that won't let you shift from park if the lights are out, so we re-wired the damn tow dolly and drove the rest of the way up there...
When we got there, we came to this little piece of work.
We went to look at how we were going to put it on the dolly when we realized that the whole damn suspension other than the strut was snapped and/or cut, including the axle not being attached on the motor side.
So there was no way we were driving this thing 100 miles home on a dolly like this, and we had this guy weld up all the broken pieces.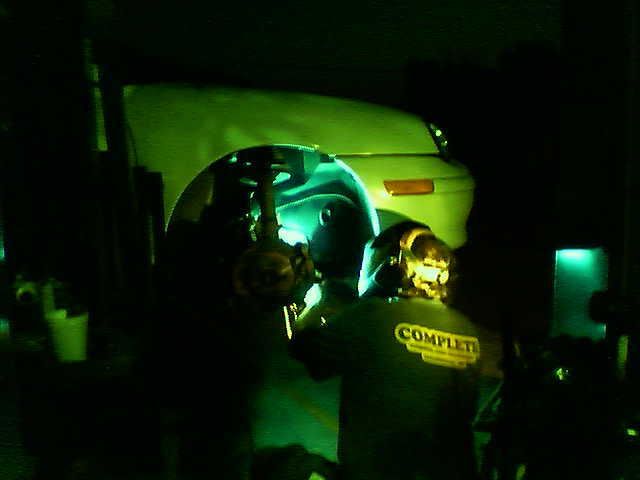 and got it home ok by midnight.