craigslist wrote:The car will still drive, but the transmission needs to be redone and I cannot afford that right now. The car has been taken care of and has a great engine. I'm not into cars myself, but know it's got some upgrades because the guy I bought it off of had it as a show car and pointed out the upgrades (I just didn't pay attention or care). The engine is a 2.0 L 16 valve DOHC. The heads I think they're called, are made porcelain if I'm correct (to help cooling quicker), all the pistons were replaced about a year ago after something blew out, so they're all new. The car's been very dependable up until now. The car is lowered I believe 4" in front. The tires are in good conditon. There's carbon fiber side mirrors (checkered detail kinda worn), no body dents, the rear trunk does have 2 wholes where a back wing once was tho. The interior is in fair condition. The front console is custom done and has upgraded gear changer and a upgraded display panel (currently unhooked). The car is automatic as well. There's some type of Ice-air intake filter as well as a front strut stabilizer bar. I never use the a/c but know it was working the last I check as well. The car has approximately 115k miles. I'd be happy to get a few hundred bucks for it if I could but will take any offers.
The seller was very nice and also a transplant down here (from New Jersy). The car, also from there. Immediately I answered the ad and made arrangements to check out the car the next day (Sunday). I went over to his house and he had the car ready to be looked at. Hrm, platinum! Matches my other neon.
But what's this? R/T wheels? That's wierd. I knew from the ad that it was modified but didn't expect that. Or the blue squiggle r/t seats. Awesome. I wonder what else it has.
He suggested we go for a short drive to the gas station where he went over more of the issues. The trans is indeed wonky, and also making a clicking sound. Very slight leak from *somewhere* but the fluid doesn't smell burnt and was at the proper level. Needs brakes, at least one corner, screech! It does have some dents, but nothing major. So it looked pretty solid for me!
We get back to the house and I was about to offer a little more money than the last guy ($250) as long as we can arrange getting it back to my house 17 miles away. That's when he tells me look, I just want to get rid of it, $200.
Me: Yes please!
The next day he drove it over and it made it ok.
After he put a little more gas in it and for going through the trouble of getting it here, I forced $20 upon him. My neighbor is a notary and she notarized the title for us, now I just need to go down to the DMV for a new NC title in my name.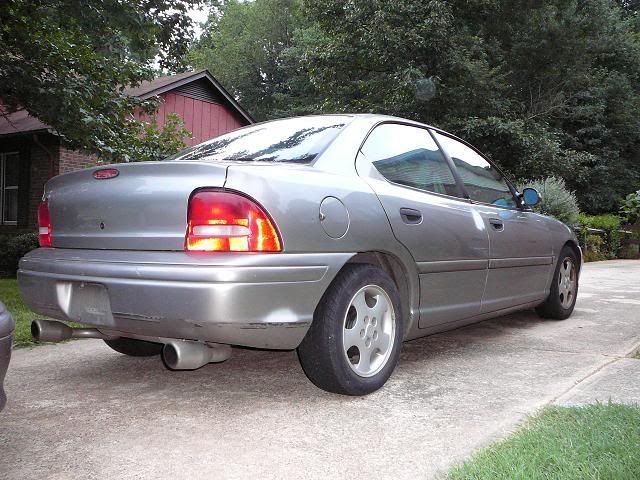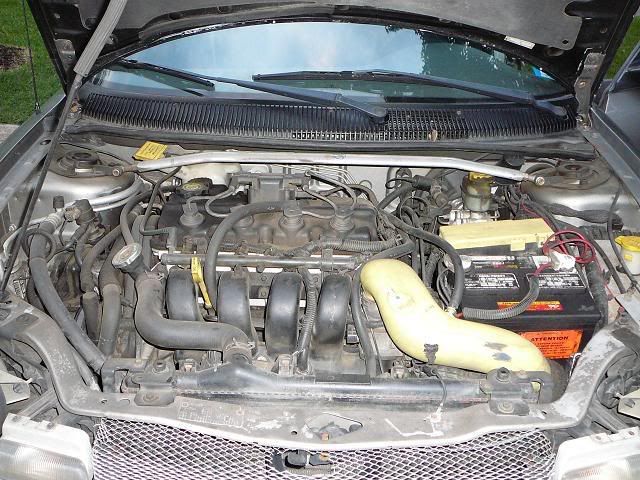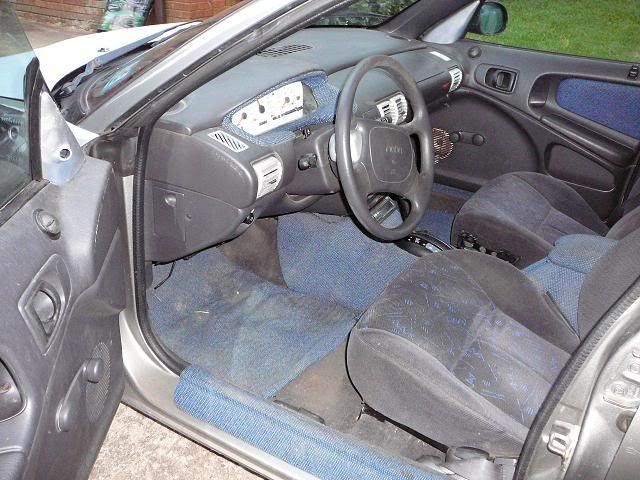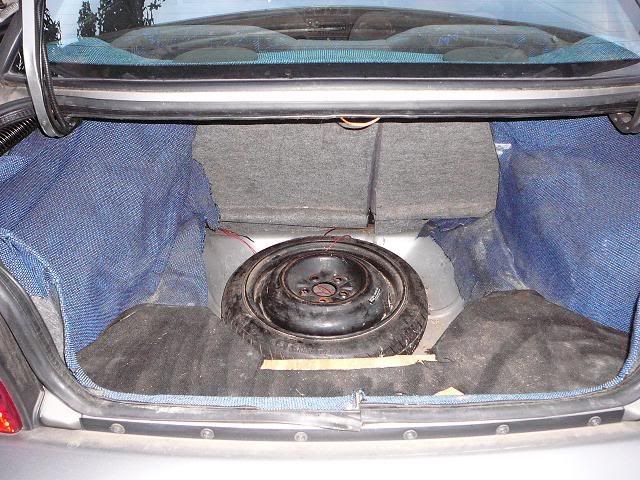 After talking to him more about the history of the car, and talking to the former owner of my other car (MCarp22 on .org) , I found it online!
http://www.steelcitysfinest.com/KeithsNeon.htm
Crazy. Even crazier? My coupe is wearing the original front bumper cover of the sedan. Small world!
Best surprise? After dropping the seller off at home I tested the a/c while in the driveway. Ice cold in seconds.
Now I figure would be a good time to go over it in detail.
Current Modifications
White faced instrument cluster
Viper alarm with remote start
R/T seats from a coupe, they flip forward, lol.
Tweeters in the door panels
Half ripped apart looking speakers in the doors.
R/T wheels, no name 185/60/14 tires
Cut for an automatic iceman
Dropzone 2" Lowering Springs
Front Strut Bar
Old alpine cd player, don't know if it even works. But it does have 3 pre-outs so it isn't totally worthless.
"Custom Tweed Interior", yeah, I've made sure 75% is already gone
CF sticker coated 'm3' mirrors with turn signals, oi.
Rebuilt engine. Unknown details on that, but the head is certainly clean looking out the outside. The oil looks like crap and is slightly overfilled.
Vibrant muffler, which looks like it's in great shape
Gutter guard for the front grill.
The iceman, vibrant, drop springs, gauge cluster face and strut tower brace will all be sold, the brace and iceman are already off the car.
Things I want to immediatly fix.
Transmission! Solution? Junkyard MTX swap! I did one to my first neon with great success. It should cost under $100 from the pull a part junkyard.
New springs. These things are just too low, at least in the front for me.
Painted bumper/hood. I may just steal the ones off of Tess.
Foglamp switch, it has one for defrost but not for the fogs, I'm guessing it was one of the interior bits that was replaced after being gayed up by tweed.
All the painted crap, the neon label on the pass side dash, the vents, the fuse box cover under the hood, it all has to go. Same with the fiberglassed center console.
One of the rear lateral links goes like this.
Makes me
New trunklid. I actually already have *two* extra platinum ones in the shed.
Replace the one dented R/T wheel, I have a spare set in the shed as well.
Driver's side seat belt bolt is stripped. Bad. I will probably just junkyard that along with the part it screws onto on the B pillar.
Future plans? I've decided that this one will be my new daily driver.
It's going to be pretty stockish at first because I want to do a sohc bolt on build. Similar to what sport compact car did, heck, it's even a platinum sedan they used, must be the best.
Back to the build though, I'd love to put a bolt on sohc into the 13s, by that I mean 13.999. I hope it doesn't take slicks, but even if it does that's alright. Make a few dyno runs, make the suspension decent, take a few pics...
First dyno-Baseline.
Second dyno-Redoing the whole intake tract. From air filter to the intake manifold.
Third dyno-Exhaust, header back.
Fourth dyno-AF/x race pcm and fuel tuning
Fifth dyno-Inertial modifications and UDP. A udp sans PS/ac belt, my fidanza flywheel, lightweight wheel/tire combo, and possibly brake rotors ground down to minimum spec.
Parts I already have.
AF/x longtube, race pcm, and udp.
Fidanza flywheel, modular
A pile of intake manifolds to experiment with, both dohc and sohc.
Fields SFC-Hyper R fuel controller, it's like an apexi afc
DOHC muffler
Center console
Bunch of misc stuff in the shed, you can never have enough misc.
Parts to buy
MTX swap parts I'm missing! Trans, shifter cables, clutch, new fluid, new? clutch and release bearing (if the junkyarded car has a clutch, I'm going to try it) , trans mount, and pedals.
Merge collector for the af/x header
New gauge cluster? (I'm hoping to pull the aftermarket face off of the one in there now so I won't have to buy another)
K&N filter, carbon fiber and materials needed to make a homemade cold air intake
Quaife? I'm not sure if I want to bother for the goals I have. Might steal the one out of Tess along with her 3.94 at some point.
A rear lateral link that doesn't make a
face
All new (junkyarded) interior plastic. Well, maybe not all of it, but a lot of it has scratches and gouges. Why not if it's cheap at the junkyard?
Same with the headliner (it's blue) and rear parcel shelf (blue, with holes cut for speakers)
Raid the stereo from Tess and add a subwoofer. Perfect.
Konis with mopar highrate springs, stolen from Tess as well, give Tess coilovers?
Steal the suspension technique sways too, or get a set of vitors if another run is made.
One of Vitor's solid bobble struts, might as well get the bracket too for the automatic crossmember.
New sidemirrors!
I'll be attacking the junkyard tomorrow, it should be quite a haul.