Ive acquired another neon. Shit.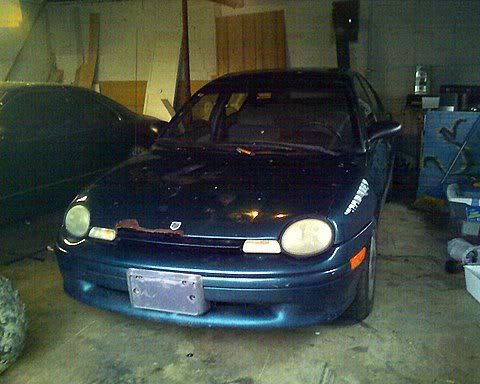 95' 4-door SOHC MTX 150,000 miles
This thing is a real turd. Its rusty and looks like old balls. I only paid $150 for it and it runs great, so I cant complain. Only real problem is a few gaping holes in the trans. Ive got a few plans for it, but I ultimately plan on selling it in a few months. Heres the list of fun:
- 3.94 Trans (should be here this week)
- Rattle can semi-flat black paint job
- R/T wheels
- Iceman intake
- Magnum valve cover
- Mopar Performance plug wires
- R/T springs & KYB struts
- Booger bushings
- R/T front and rear seats
- new headliner
- DOHC muffler
- better headlights
Most of this stuff is all left-over parts from my R/T, so Im not putting much money into this.
The paint job is nearing completion. I decided to paint the door jambs and engine compartment, which has been a real bitch. I also fixed all the dents with some Bondo before painting. All of the rust has been repaired, and I got a good hood for free. I do need a new rear door.
The old trans is already removed. The clutch only has about 10,000 miles on it, so it will stay. Im adding diff pin tabs to the new trans to prevent future failures.
I haven't yet decided, but I may throw some other parts at it. I have a full race ported SOHC head kicking around the garage somewhere, and a friend offered to donate a direct-port nitrous setup if I wanted it, although I would have to buy a bottle. If I go this route, I will be rebuilding the engine.