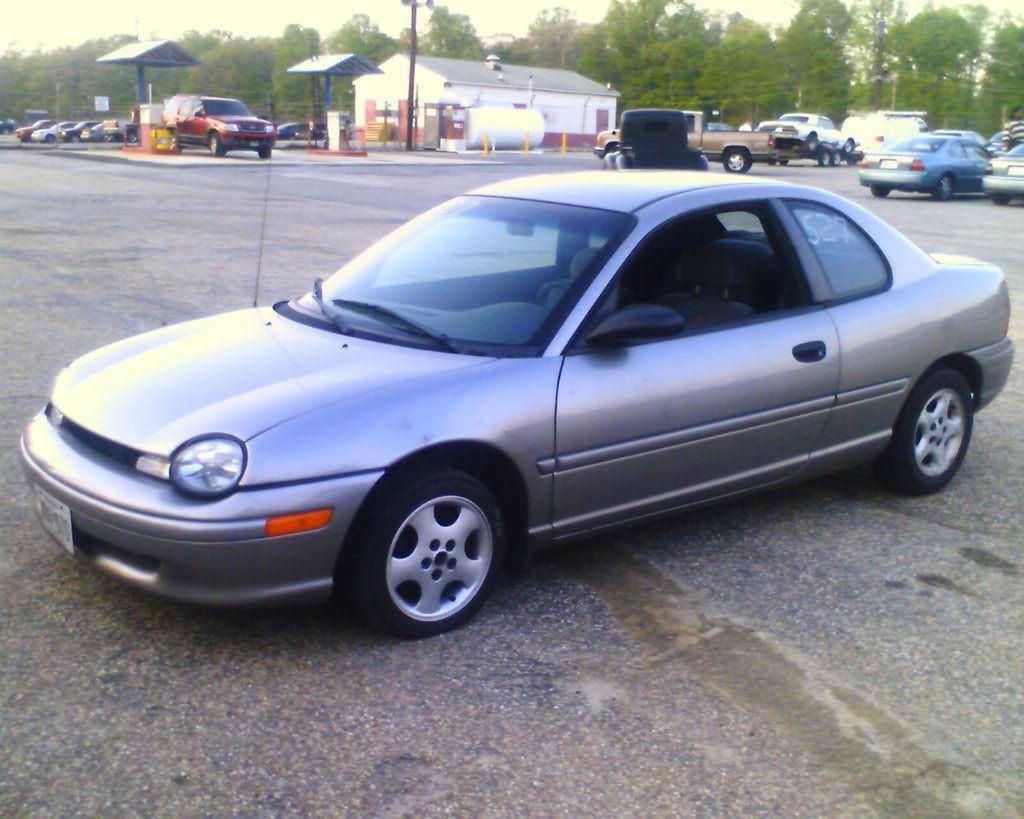 I did a post on neons.org, but I'll paste it here for ya'll.
4/18/08
Mods at the time were:
Mopar DOHC computer
3.0 Intake
AFX Long tube Header
2.5" Dynomax exhaust
Dynomax super turbo camaro muffler
Crane Ignition system
Launch limiter set at 5500
20x6x14 Mickey Thompson ET Drags on 1gn RT rims with 25 PSI of air
Plus a carload of tools, random crap, and my stock rims and tires, and I'm not skinny.
R/T: .893 (wasn't working on that)
60': 2.155
330: 6.442
1/8: 10.023
1/8 MPH: 67.76
1000': 13.110
1/4: 15.746
1/4 MPH: 85.51
When I was getting towards the end of the track I was up past 6800 RPM's, and thats where I really start dying off. I think if my motor had a little more top end, I would have done better overall.
Then I texted SuperD to tell him what I ran. He texted back "Your axles hate you now!"
I decided it was time to step it up a little. I set the rev limiter to 5800, and aired the tires down to 20 PSI. Then I snapped the drivers axle. Luckily my buddy was there, and we made it to autozone and I had the axle finished before the track closed! w00t!
I have a timeslip but its hard to read.
And then Tonight's Update:
Ran it again today! Didn't get a 15.7, but I did 4 runs and didn't break anything! Setup was the same as the original post, with the slicks, mods...and all the same crap in the car. I did lost my PS and AC belt going down the track on the 2nd run. That was embarassing to say the least.
Had the 2-step set at 4200. Only used it on the first two runs.
First run:
Forgot to turn off the rev limiter. Hit it in 1st, then shifted to 2nd, turned it off, and then ended up shifting to 4th at about the 1000' mark.
R/T: 1.110
60': 2.498
330': 7.377
1/8: 11.138
1/8 MPH: 64.85
1000': 14.304
1/4: 16.941
1/4 MPH: 84.99
2nd Run: Launched with the rev limiter, kinda slipping the clutch till it got close to off, then kicked off the limiter.
R/T: 1.060
60': 2.316
330': 6.684
1/8: 10.338
1/8 MPH: 67.63
1000': 13.459
1/4: 16.106
1/4 MPH: 82.97
3rd Run:
Didn't use the 2-step at all. Staged and ran it up to about 5000 or 5500, and slipped the clutch and kept the revs up. I didn't flat shift to 2nd, but I did into 3rd.
R/T: .650
60': 2.286
330':6.584
1/8: 10.211
1/8 MPH: 66.91
1000': 13.306
1/4: 15.936
1/4 MPH: 85.79
4th Run:
My best run of the night. Did basically the same thing as before, launched around 5500 or so, somewhat slipping the clutch, but kept my foot on the gas when I shifted. Finally beat someone too, this guy was running a Dodge Ram 50, which ran an 18.684@70.88
R/T: .749
60': 2.205
330': 6.467
1/8: 10.097
1/8 MPH: 68.19
1000': 13.193
1/4: 15.825
1/4 MPH: 83.42
Seem a little weird that my MPH is all over the place. But I guess since I didn't launch and shift the same its explainable.