Ok, I did this mod on my Miata driver seat and figured I'd try it on the Neon.
What:
Remove foam from the seat bottom (and back if you really want but I didn't have time!)
Why:
To give it more of a "bucket" feel, increase bolstering on the sides by removing foam from the middle where your butt goes.
How:
With a SHARP razor (dull will just tear/rip the foam more)
Things to note:
My seats are not base model seats although the car is (got switched out by the PO). They have pretty hard foam in them, definitely harder than the R/T squiggle seats I sat in.... I'm not sure if that is because of years in the sun or what, but the bottom portion was not cracked.
**this mod is not for the faint of heart, nor people who are not good with sharp knifes or afraid of cutting themselves**
Tools needed (I forgot the big torx bit, sorry!):
Disassembly, quoted from a previous how-to: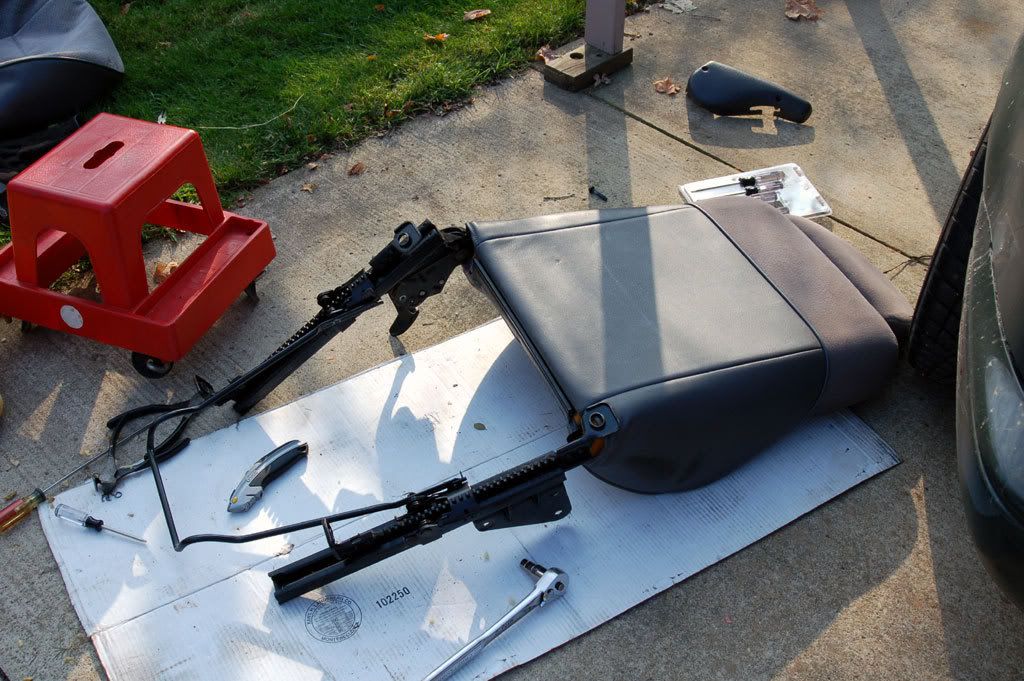 theCOOP wrote:
2) remove the seatbelt latch assembly using a large torx bit in a ratchet.

3) remove the two 10mm bolts holding the seat-back to the lower frame.

4) slide back the rail portions that bolt to the floor of the car and remove the two 10mm bolts from the underside of the front of the lower seat frame (one on each side) and remove the two 10mm bolts from the back at the sides (one per side).
There are 3 hog rings that attach through the foam around a metal rod, that pulls down the one seam in the seat cover (other model seats may noT have it?). I removed the hog rings so I could take the cover off (I did not reattach them).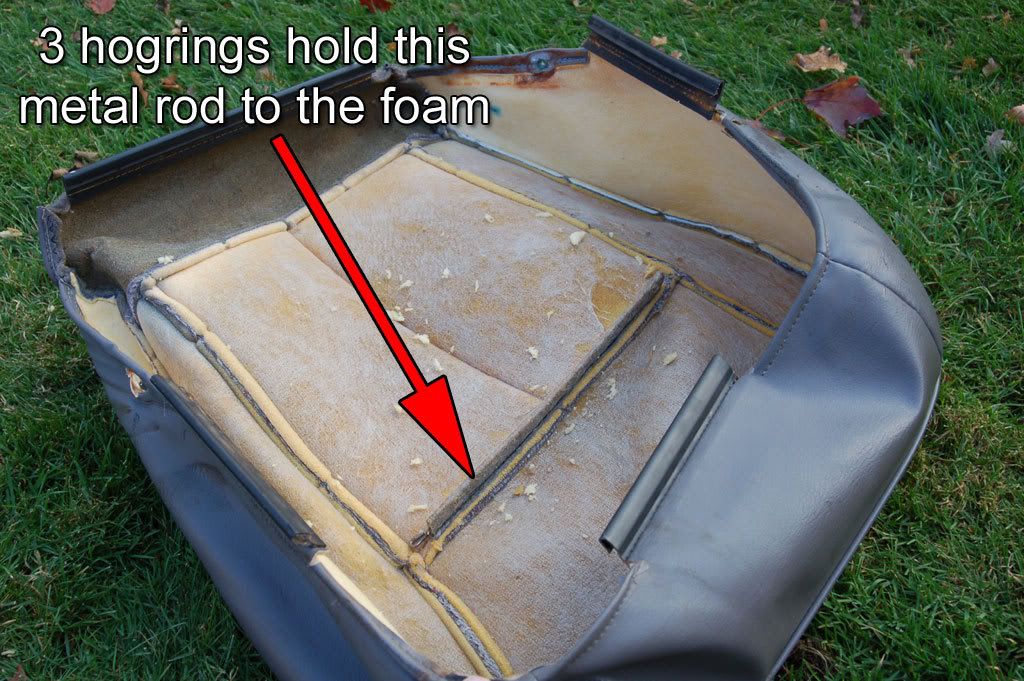 Outline an area you want to cut out. I only cut out the sections you see, but if I were to do it again, I'd cut to the red lines.
It's easiest to work in small strips, pulling the strip up towards you and cutting the foam as you pull, this also gives the most even cut. You can always go back and take out more (keep checking how thin you are making it). You CAN add back in foam if you really want to.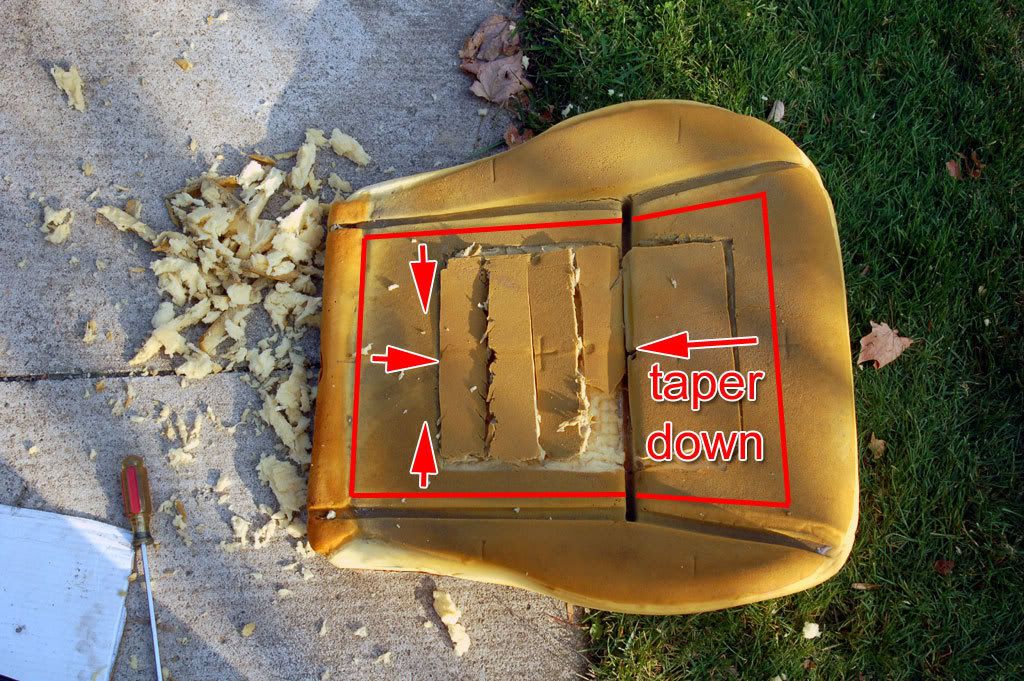 What it's going to look like once you start cutting:
Example of taper for comfort: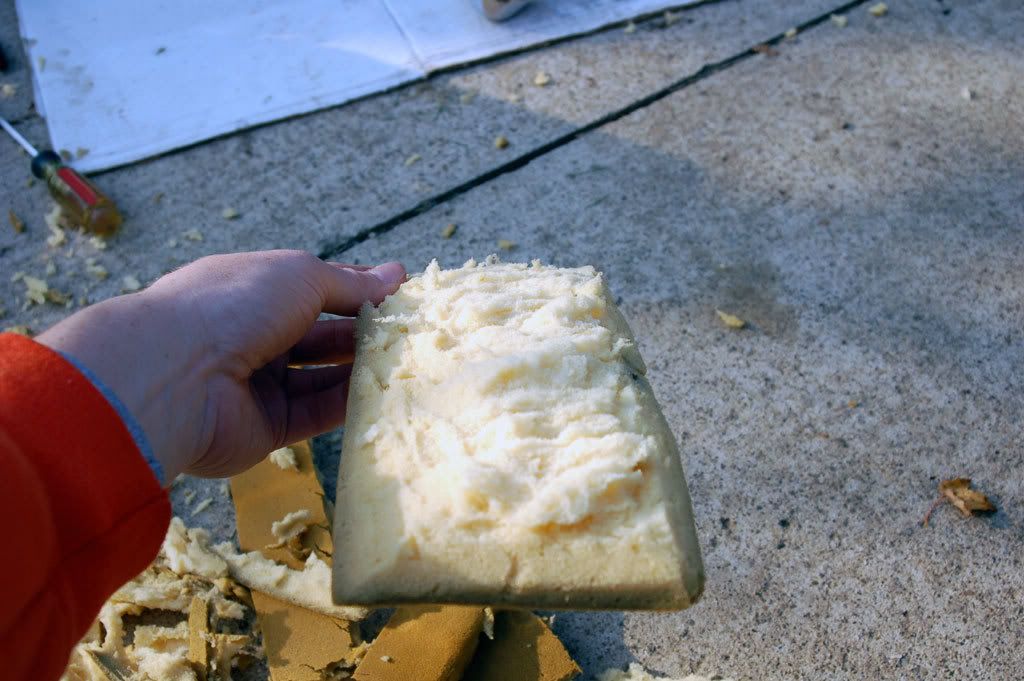 BEFORE:
AFTER: